Meet Sulu.
Sulu is a four-month-old domestic shorthair. They say he's a "brown tiger" or "tabby" or something. We don't really know because we got him as a stray from the shelter five days ago, and since I penned a post about Meeker when he was a kitten (hence the "other" in the title), I thought Sulu deserved a post too. Because his lessons are different.
We weren't planning to get another kitten when we found Sulu. In fact, the story of how he came to be a part of our family relates to the first lesson he's taught me.
1. Wonderful things can come from painful circumstances.
You may have noticed I said we found Sulu at the shelter. The reason we were there is another one of our cats, Lily, went missing two weeks ago.
Remember Lily? She's our super-skittish, sweet girl who hid behind the fridge when Meeker arrived. She's always been an indoor cat, and when we couldn't find her on the morning of October 24th, we at first assumed she'd hunkered down in one of her hiding places. When she wasn't in any of those, we turned the house upside-down and inside-out looking for her. We could only conclude that she got out at some point the day before.
We hung up fliers and talked to neighbors and stalked the shelter's web page. I even paid to have a promoted post about her on PawBoost. I thought for sure someone close by would have seen her, seeing as she's so scared of her own shadow and anything bigger and louder than that. She would likely be hiding at a neighbor's house.
No luck, though. No one has even reported a sighting.
We've made repeat visits to the shelter, on the off-chance that her picture didn't make the web postings for some reason. And on our second visit, we met Sulu.
He climbed on the bars of his cage, meowed incessantly, and when we showed the smallest bit of attention, he purred enthusiastically. Considering Meeker behaved much the same way when we got him, Sulu caught our attention.
The shelter hadn't yet determined his age or even his gender. He had some kind of issue with his eye that made it squinty. He didn't have a name. But we paid to put an adoption hold on him anyway, meaning if he wasn't claimed by previous owners in five days, we would have the first chance to visit with him and adopt him.
There was just something about this kitten.
Mind you, we were not without conflict during those five days. My teenage son, who had become Lily's primary caretaker, asked if we were betraying Lily by discussing another pet. I told him no. We expect Lily to return to us. This kitten will make three.
I watched as the days passed and Sulu's picture remained on the shelter's site with a note that a family (us) had placed an adoption hold on him. We discussed names, and my teenager thought keeping the kitten in his room was a good idea (one that I may have pushed–that boy of mine is a nurturer and needs something to care for). Then, last Friday, our day to "meet" Sulu arrived. As long as the visit went well, we planned to take him home.
When I took Sulu from his cage, he purred loudly enough to shake the walls, and he pressed himself against me in a kind of kitty hug.
You could say the visit went well.
We brought him home and closed him in my son's room, and from the first minute, he took to exploring, which brings me to the next lesson.
2. Exploration is just plain exciting
My son's room isn't very big, and he's one of those weird kids who keeps it clean. Sulu didn't have many ways to get into trouble. But that didn't stop him from examining every nook, cranny, and corner available. He was completely absorbed by the possibilities offered by his new surroundings. And a few days later, when we started letting him into the rest of the house, he was like: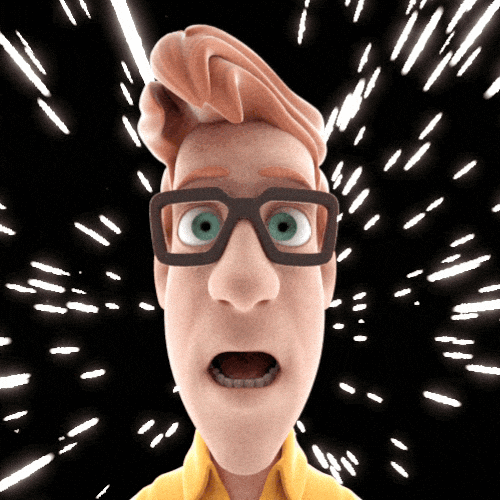 It's safe to say his big new world blew his little kitten mind. But there was something else in the house besides more rooms. Meeker was there, and Sulu showed me his next lesson.
3. Making new friends requires bravery
Meeker is a friendly, outgoing cat, and he'd been acting lonely and sad since Lily disappeared. But that didn't mean he wanted a little furry thing 1/4 his size invading his space.
Now, Meeker has been a really good sport. Sulu has crept up, sniffed him right on the nose, and even tried to snuggle at one point.
They would each occasionally get puffy tails, and Meeker has swatted at Sulu a few times (without claws). Sulu persists, and Meeker has started allowing him to stay close for slightly longer periods. Good thing Sulu didn't get scared off by the swats and puffy tail from the giant roommate.
Lesson 4 is more about us than him, I think.
4. It's cool to let your geek flag fly.
A coworker asked me (gently, as if in fear that I may be offended by the question) if Sulu was from something other than Star Trek.
No. No it isn't.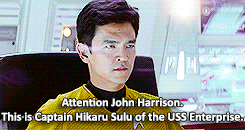 The two names we narrowed our choices to were Sulu and Nimoy. My 10-year-old ultimately made the final choice.
We celebrated by watching Into Darkness.
The final lesson takes us back to the shelter for a minute but extends into the present. I saved it for last because I think it's the most poignant.
5. What you offer won't be right for everyone. But it will be perfect for someone.
Sulu really has been the perfect cat. He's playful, loving, and wants to be around us pretty much all the time.
He came to the shelter as a stray, perhaps abandoned. No one tried to claim him. Kittens with eye problems aren't usually the first to be chosen. And we are thankful for that, because he has been the best addition to our family, especially during this difficult time while Lily is missing. He isn't a replacement; he's a force all his own. We're looking forward to introducing Lily to her new little brother.
Update: A neighbor contacted me on 11/17 to tell me Lily was living under their deck. She is home!