Welcome to Day 4 of our story-oriented Blogging A to Z challenge. Today, we'll be picking apart dialogue, which feels like it should be easy, doesn't it?
Here's the thing: dialogue can make or break a story.
No pressure, though.
Good dialogue weaves seamlessly into the narrative. Bad dialogue…
Well, bad dialogue makes readers close the book. Or in the case of me, throw the kindle.
Dialogue has a lot of jobs to do. On the surface, it shows two or more characters interacting. It should also reveal character traits, move the plot, and offer subtext and foreshadowing.
Oh, and it can't be weighed down and boring.
And it should imitate actual speech, meaning there won't be all complete sentences. It shouldn't be "on the nose," where the character says exactly what they mean. Like this:
"I have a problem with women because my mother abandoned me when I was eight. She made me feel inadequate and unwanted, so I assume all women will treat me that way. I just want to learn how to love again."
No person anywhere outside of a psychiatrist's office (and maybe not even there) would say anything like this – unless they're being manipulative.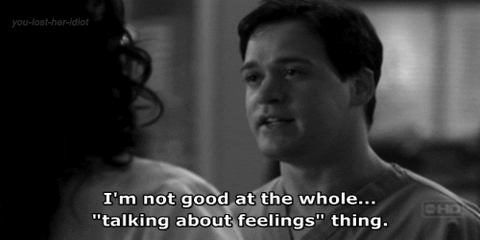 I've written about dialogue in detail here and here, so instead of hashing all that out again, I thought we could share bits of dialogue we've written or read that we especially like. I'll start. Leave your dialogues in the comment section along with where they're from.
Mine is from my current WIP called The Seventh Seed.
---
"I'm from California."
"You're gonna have to do better than that. How'd you end up in Colorado?"
"Some guys drove me here."
"Some guys?"
Javier nodded.
"Like . . . government guys?"
Javier suppressed a smile. Liz seemed wise enough to think around the nightly propaganda. "Sort of. I think."
"Well, if that ain't the most wishy-washy answer I ever heard." She stood. "All right, Hector. Tell you what I'm gonna do. You can stay here. In my office. You're too soft to last long out in the main hall. Most guys are decent, but we get the occasional assholes who stay just enough inside the lines to keep us from booting them. I wasn't planning on staying over tonight, but I will."
"Why? You don't know me."
"Not sure. I guess you remind me of someone. It'd help to know what you're carting around there."
"I can't tell you. You'll be in danger if I do." That should keep her from pressing the issue. Plus, it was true.
"In danger? Seems like I really should know now."
"The contents aren't dangerous. What they mean is dangerous. You're better off if you can play dumb about it."
She raised her eyebrows. "Back to the government guys?"
He nodded.
"Fair enough." She walked to a bookshelf and pulled a mat from under it. "I sleep here when I stay over, but you can have it. I'll get blankets from the laundry."
"Where will you sleep?"
"Don't worry about me."