In the writing community, there's a saying that there are no new story ideas – there are around 12, and every "new" story is one of those 12 told in a different voice and from a different angle. The Orphaned Chosen One and the Unasked For Journey are two common ones.
Another "branch" of these is retellings – those stories that are new takes on old classics. They don't pretend to be "original." Their charm lies in the fact that they follow a known story line but in a new setting.
I love retellings. This year I read one of my new favorites, Cinder by Marissa Meyer. It's the Cinderella story told in futuristic China and where Cinderella is a cyborg.
Another retelling that I loved is Ruby Slips and Poker Chips by Heather Kindt. It's a new spin on The Wizard of Oz, where Dorothy is a teacher and the
wicked witch is her principal. There are analogs for the Scarecrow, Tin Man, and Cowardly Lion as well, but you have to read the book to discover what they are. I especially liked the Lion analog.
I like retellings so much I decided to write one. My latest work-in-progress is a middle-grade retelling of the Aladdin story set in a modern-day urban elementary school. It stars Alejandro (Aladdin), who with the help of his pet hedgehog (monkey), discovers a magic coin (lamp) that houses the ghost of a janitor (the genie). I even have Alejandro steal bread in the first scene.
As a side note – writing a hedgehog is super fun. Everyone should try it.
The analogs are what make retellings fun, I think. Readers have to figure out what new thing represents something from the known story. A movie that did an especially entertaining job of this was Oh Brother, Where Art Thou?, which you probably know is a retelling of a very old story, Homer's Odyssey. I think the corrupt preacher as the cyclops was brilliant.
Another movie favorite is Ten Things I Hate About You, borrowed from Shakespeare's Taming of the Shrew. In that retelling, the sisters are high-school students, and the younger, popular sister can't date until the older, jaded one does.
There's even a not-so-subtle nod to The Bard himself in the secondary characters, one of which claims to be in a relationship with him.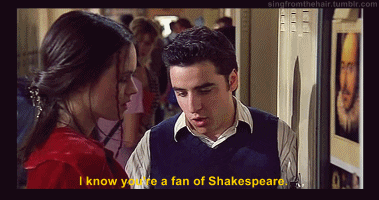 I'm not sure that would have worked if the story hadn't been a retelling. It might have been the only reason that part was there.
I've had the floor long enough, so now it's your turn. What do you think of retellings? What great ones have you read/watched?