This week's flash fiction challenge over at Carrot Ranch is a bit different: In 99 words (no more, no less) write a story using your choice of microhistory from Keweenaw National Historic Park. Be historical, funny, or flagrantly fictional. Choose a character, time, place, or event.
There are a LOT of stories on that site, so I scrolled down and picked one at random, landing on Peter LaChapelle. The story starts as an inspiring immigrant story…
…but quickly took a sinister turn.
Of course, this fakery reminded me of one of my favorite movies.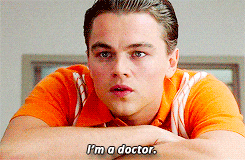 Maybe LaChapelle was the original Frank Abagnale, Jr.
So it is in the spirit of this part of the story that I bring you my definitely fictional flash piece. Incidentally, if you're interested in the rest of his story (which includes his daughter marrying a MUCH older "Copper King"), click here. 
---
The Doctor
"Isn't it wonderful?" My wife leans against me on the sofa. "Starting over in a new town, surrounded by new people."
"Indeed it is." I brush a few of her stray hairs that tickle my cheek.
"When will you open your shop?"
I pull at my sleeve, pondering my boring, old life as a tailor. "I decided to do something different."
"Oh?" She sits up, looking into my eyes. "Like what?"
I smile. "How would you like to be married to a doctor?"
"But you've no training."
"Well, it's like you said. We're surrounded by new people." I wink.